First United Methodist Church
Located across from Bronson Park in downtown Kalamazoo, we are committed to:
Welcoming all.
Making disciples of Jesus Christ through worship, study, and service.
Serving our community by addressing racism, hunger, housing, and immigration issues.
God loves all people.
So do we.
Thanks to the most recent new member class for the use of their photos.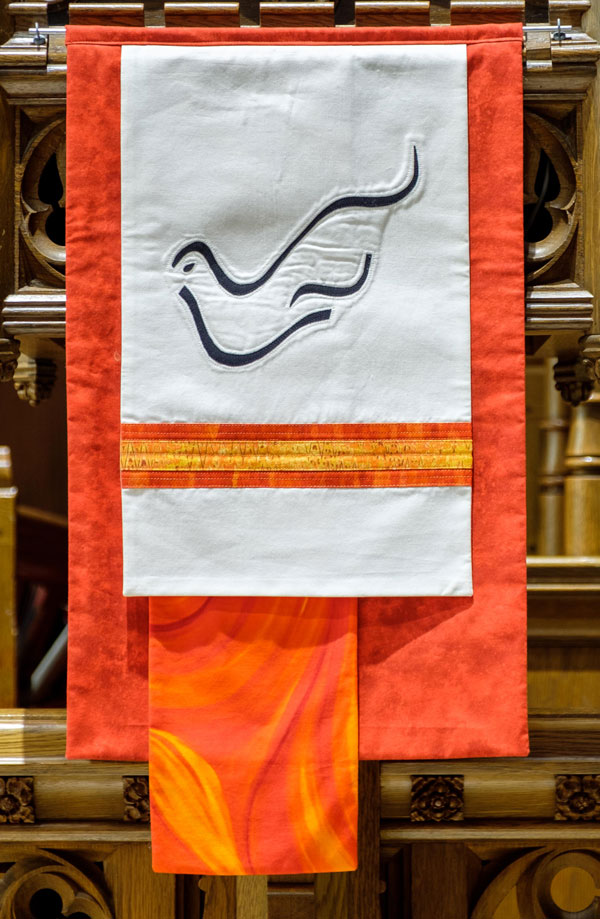 In late 2019 I was diagnosed with a rare form of lymphoma, resulting in radiation and chemotherapy treatments and finally a T-cell transplant.  From the very beginning I was blessed with an outpouring of support and prayers from the First Church family.  It was those prayers and cards, along with the support of my family, that helped me get through this medical challenge.
 "I appreciate how people at First Church have gone out of their way to make me feel wanted and included."
F.A.Q.
Frequently Asked Questions
Where is the church located?
We're located in downtown Kalamazoo, Michigan, at the corner of S. Park and Academy Streets.  The original entrance doors face Bronson Park.
Where do I park?
You enter our parking lot from Academy Street.  There is also parking along Academy Street, and it's free on Sundays.  In addition, there is Sunday morning parking in the Kalamazoo Institute of Arts lot that is adjacent to our parking lot.  You enter the KIA lot from South Street.
Most people enter the church building from the parking lot.
What is Sunday worship like?
Our current online worship has a few elements from our sanctuary, organ music as well as instrumental and vocal solos, but the sermon, prayers, and children's time is normally recorded in the yards or homes of our pastors and staff. In addition, various families in the congregation provide the Scripture readings from their homes.
Is there a Sunday School for adults?
During the pandemic, there is an adult class offered each Sunday morning at 11:00 via Zoom. Adult Sunday morning classes are called Academy classes. Recent topics include the role of spirituals in the Christian life, race and poetry, providing a deeper hospitality to newcomers, and understanding the American political system.
When church meets in person, how do people dress?
There is a wide variety of clothing worn by those who attend worship and other events at the church.  Some come in jeans and T‑shirts, while others dress up.  We're happy to have you join us no matter your style of clothing!
Can I  bring children and babies with me to worship?
Children of all ages are welcome to attend worship with their families.  A small bag of activity sheets keyed to the morning Scripture is provided for children.
There is also a glass-front Family Room located in the lower balcony.  Designed to help parents of babies or toddlers, this room has a rocking chair, a changing table, and some toys with play space on the floor.  Parents can hear and see the service from the Family Room.
Is this church accessible to people with disabilities?
First church is nearly 100% wheelchair accessible. Wheelchairs and walkers are available for those with ambulatory impairments on request. The parking lot entrance is barrier free, and the sanctuary can be accessed via a ramp across from the chapel. Once inside, there are spaces for wheelchair worshippers and fellow attendees about one-third of the way back from that door. All floors can be reached via elevator. 
What about worshipping with a hearing impairment?
Feel free to stop by the Welcome Center for a hearing assistance device to use during worship.
What about worshipping with a visual impairment?
We have large print Bibles, hymnals, and worship bulletins. Just ask the greeter at the sanctuary entrance. Wall signs are high contrast with brail text. Steps are marked with safety tape.
Are there large print materials?
Yes, we have large print Bibles and hymnals.  Just ask the greeter at the sanctuary entrance.  Also, each week several large print worship bulletins are made available.
Can I get transportation to worship services?
The church has an accessible van that is used to bring people to the church building for worship services and then return them home afterwards. Phone the church office at (269) 381-3941 to ask for a ride.
Are there tours of the church?
Yes!  Just stop by the Welcome Center, and we'll be happy to guide you on a tour of the building.
Is there a safe sanctuary policy?
Yes, we have a safe sanctuary policy to create a holy space so that children and adults can be assured of a safe environment for worship and education.
Does this church do weddings?
Yes, this church welcomes weddings between adults of all gender identities, presentations and sexual orientations. For more information click here.
How can I get a subscription to the church's e-mail list?