Rev. Julie Kline
Lead Pastor
Julie first started her time with us as an Associate Pastor. On July 1, 2020 she became our Lead Pastor. She has come full circle with her return to First United Methodist Church of Kalamazoo, as she grew up in this church, graduated from Kalamazoo Central High School, and received her bachelor's degree from Michigan State University in psychology and her Masters of Divinity from United Theological Seminary in Dayton, Ohio. She later went on to obtain her full ordination in the United Church of Christ. Julie is passionate about her ministry here at FUMC and believes that we can each be a part of a creative ministry that calls us to engage in an ongoing relationship with our Creator and become the hands and feet of Christ. Julie and her husband Drew have two sons, Jonah and Lukas.
Rev. Matt Weiler
Pastor of Community Formation
Matt joined our pastoral staff in July 2020 after serving Kalamazoo's Eastside Sunnyside UMC for 11 years. He and his wife Cara have three young children who attend Northglade Elementry and Hillside Middle School. Matt and Cara are both 2007 graduates of Garrett Evangelical Theological Seminary. Cara is an ordained deacon and a licensed social worker. In May 2020 Matt completed his Doctor of Ministry at Garrett Evangelical with a dissertation titled "Baptismal Covenant and Antiracist Identify. His passions in ministry are developing deep relationships, organizing the church for justice, teaching, and witnessing the transformative power of the gospel, particularly within the lives of young people. In his free time, Matt loves reading, gardening, hiking with his labs, kayaking, fishing, and a family backpacking trip.
mweiler[at]umc-kzo.org
Jacqueline Stilger
Minister of Music
A native of Southern Indiana, Jacqueline has been involved in church music since high school. She was active as a cantor and organist at St. Mary's Roman Catholic Church in her hometown of Lanesville. She holds a Bachelor of Music degree in organ performance from the University of Louisville, where she studied with Melvin Dickenson, and a Master of Music degree in Organ and Church Music from Indiana University, studying with Dr. Marilyn Keiser. She has served congregations in Kentucky, Indiana, New York and Michigan. She has been the Minister of Music at First United Methodist Church since the summer of 2009. Jacqueline resides in Kalamazoo with her three children, Carsten, Drew, and Avery.
jstilger[at]umc-kzo.org
Ruth LaMachia
Director of Business Administration
Ruth LaMachia came to Kalamazoo First in September 2012 from Perrow Church in Cross Lanes, West Virginia where she also served as their Church Business Administrator. Before that, she spent 25 years as an administrator and manager in the insurance industry in Connecticut and West Virginia. She is originally from the Chicago area and her father, a former minister, is from Port Huron so she spent much time growing up visiting family in Michigan. Ruth lives in Kalamazoo with her husband Bill and their two dogs. She has two adult children, Elizabeth and Justin, and a granddaughter, Imogen. 
rlamachia[at]umc-kzo.org
Julia Librizzi
Director of Children & Families Ministries
Julia started her position as Director of Children and Families Ministries in August 2019. She has lived in West Michigan her whole life and grew up on fellowship and potlucks as a United Methodist pastor's kid. Her family has been attending this church since her and her husband Jim moved to Kalamazoo in 2014 with her two young children, Carolyn and Penelope. Julia has been called to work with children and has been involved in many roles of leadership including being a mentor in after-school programs, nanny, preschool aide, Girl Scout leader, LEGO Robotics Coach, Godly Play leader, Vacation Bible School leader, and an assistant for emotionally impaired learners at Kalamazoo Public Schools. She is filled with joy to experience and share God's love with all children and families at First UMC of Kalamazoo.
jlibrizzi[at]umc-kzo.org
Thom Victor
Director of Congregational Care
A lifelong United Methodist, Thom has felt God's call to serve and volunteer in ministry in several capacities throughout the years, including administrative, camping, educational and music ministries.
He attended Central Michigan University where he was active in the Wesley Foundation.  After graduating with a bachelor's degree in international relations, Thom moved to Atlanta, Georgia, to attend Candler School of Theology (Emory University) where he enjoyed interning as a hospital chaplain and exploring the theology of disability.  In addition to his studies, Thom served in music ministries as praise band director, guitarist, and gospel choir member.
Thom joined Kalamazoo First United Methodist Church in 2014 after returned home.  Since 2016 Thom has served in a variety of roles including office assistant, security staff, pastoral care volunteer, tech troubleshooter, and facilitator of the satellite worship services at the Fountains, Heritage Community, and Friendship Village.
In his spare time, Thom enjoys working on computers, playing guitar, photo and video editing, hanging out with his cat sidekick Maggie and serving as a member of the Kalamazoo Valley Habitat for Humanity Board of Directors.
Vickee Seals
Security
Vickee moved with her family to Kalamazoo at the age of 4.  In 1971, when she was a third grader, they joined First United Methodist Church.  One of her earliest happy memories at church was the annual father-daughter dance.  During her elementary and teen years, she played hand bells and participated in the youth choir and the children's musical.  All of those groups were led by Georgia Woolrich.
Vickee's mother gave her children the gift of music and the gift of valuing education.  In recent years, Vickee has been in the Chancel Choir and the hand bell choir.  As a part of her interest in education and mission outreach, Vickee worked for a year in 2016 in San Juan, Puerto Rico, at an international Methodist school.  For her, the highlight of the job there was working with three year olds.  On the weekends, she was the teen supervisor in the boarding school.  On Saturdays, they would take the students all over the island which gave Vickee a chance to see different natural areas and cultural sights.
Although she has worked in different volunteer and paid capacities at the church, including going on ASP trips with the youth, Vickee currently works church security.  Off the job, she enjoys the outdoors, especially kayaking.  She has four children and many grandchildren.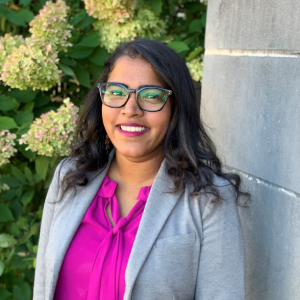 Mandakini Brophy
Youth and Young Adult Resident
Mandakini joined our staff the end of August 2021 after previously working at Kalamazoo Loaves & Fishes. She and her husband Jason live in Kalamazoo with their cat, Moomer. Mandakini is a graduate of Grand Valley State University where she got her undergrad in Advertising. She is currently in the master's program at Western Michigan University to become a licensed therapist, specializing in trauma. Along with this she is interning at CTAC (Children's Trauma Assessment Center). In her free time Mandakini enjoys playing music, writing, reading and knowing people on deeper levels.
Christiane Stakely
Office Assistant
Christiane (Chris) joined the staff in November 2021. Originally from New England, Chris is a big Patriots fan! She moved to the Midwest in her early 20s and five states later has made Michigan her home. Chris and her husband Bob live in Plainwell with two dogs and two cats. They have three adult sons spread across the continent and three (so far) grandchildren who are the light of their lives. Chris enjoys traveling (good thing!), biking, hiking, kayaking, gardening, beekeeping, cooking and especially eating! She enjoys most sports and since moving to Michigan has learned how to curl.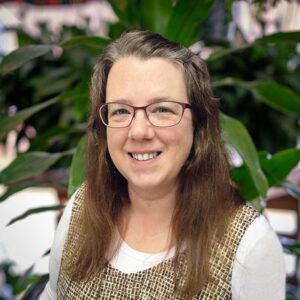 Christine Landreville
Administrative Partner in Ministry
Christi first came to First United Methodist church in 2003, drawn by the powerful organ and the evening worship service.  She began volunteering in the church office soon after.  A lifelong Methodist, she began serving churches as a toddler when accompanying her parents to their local church, where they were the custodians.  It was then, while hiding from the vacuum her mother pushed, Christi discovered the peace and calm of the cool sanctuary floor.  She has served churches as a Pianist, Instrumentalist, Organist, Vocalist, Worship Leader, Choir Director, Youth and Adult Handbell Choir Director, Music Director, Worship Coordinator and Music Librarian.  Christi, curious about the mysteries of faith, studied Religion and Music at WMU, earning a Bachelor's Degree.  She is married to Bill, and they have four children.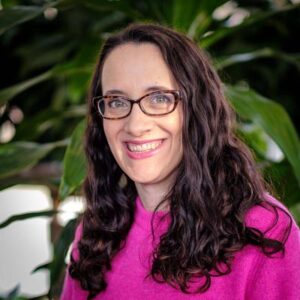 Bethany Gauthier
Communications Coordinator
Bethany joined our staff in 2020 to share the story of FUMC Kalamazoo and all the wonderful ways our congregation works together to help the community.  She grew up near Hickory Corners and earned her Bachelor of Arts in Creative Writing and Master of Fine Arts in Playwriting from Western Michigan University.  She has worked in arts marketing and health care marketing and, in recent years, has spent a lot of time on digital marketing and social media.  In her spare time, she loves to read, watch movies and go for neighborhood walks with her family.  She's proud to call Kalamazoo home with her husband, two children and their Boston Terriers, Otis and Elmer.
Bernie Foulk
Organist
Bernie joined the staff of First United Methodist Church in 2007 as organist.  In addition to organ, he plays the piano, hand bells, tambourine, and other percussion instruments as needed for the worship services.  He holds a bachelor's degree in trumpet performance as well as master's degrees in library science and organ performance.
When Bernie is not at church, he enjoys spending his time gardening, cooking and restoring old houses.  Bernie lives in a Victorian house in Kalamazoo with Teaberry the Cat.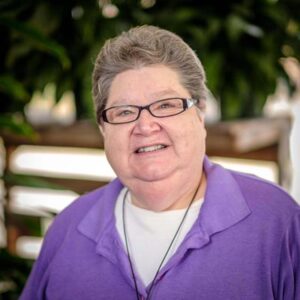 Robin Entenman
Security and Parish Nurse
Because her father was a United Methodist pastor, Robin grew up in West Michigan churches, moving roughly every four years.  She'd always wanted to be a nurse, and in 1985, she started a nursing program at Kalamazoo's Nazareth College, graduating in 1989 with a Bachelor of Science in Nursing degree.
 During her years at Nazareth, she made several close friends and began to be interested in spiritual development.  Because of this, Robin was sometimes asked to pray with patients or their families in the cancer unit where she worked.  As time passed, she realized she also had a special interest in treating dementia patients.
Robin began visiting First Church in 2001 and immediately decided to join the Companions in Christ program because of its focus on spiritual formation.  The program's emphasis on prayer fit well with Robin's priorities.  In her work at First Church's security desk, she often prays with people who come to the church looking for help.
The role of parish nurse was appealing to her since it combined nursing and spirituality.  In 2006 the church made it possible for Robin to attend a parish nurse program at Nazareth College.  She received her certification that summer and began the volunteer position of parish nurse for First Church. 
Since joining the church in 2002, Robin has worked in the office and also as a security person for First Care.  She aims to be a spiritual presence in every setting, whether welcoming the young children who come to the day care program or helping people who phone the church.
Casey Curran
Lead Audio-Video Technician
Casey joined the First Church staff in the summer of 2019.  He has been a stand-up comedian and filmmaker based in the Kalamazoo area for the past five years.  Casey wrote, directed, and produced "A Special Delivery," his first short film as a part of completing his degree in Professional Communications at Siena Heights University.  He has also written several other screenplay projects.  Casey enjoys the writing process and has hosted screenwriting workshops.
He was instrumental in the church's transition to livestream worship during the Covid pandemic.  Both the congregation and staff are grateful for Casey's talent and skill in making meaningful online worship possible.