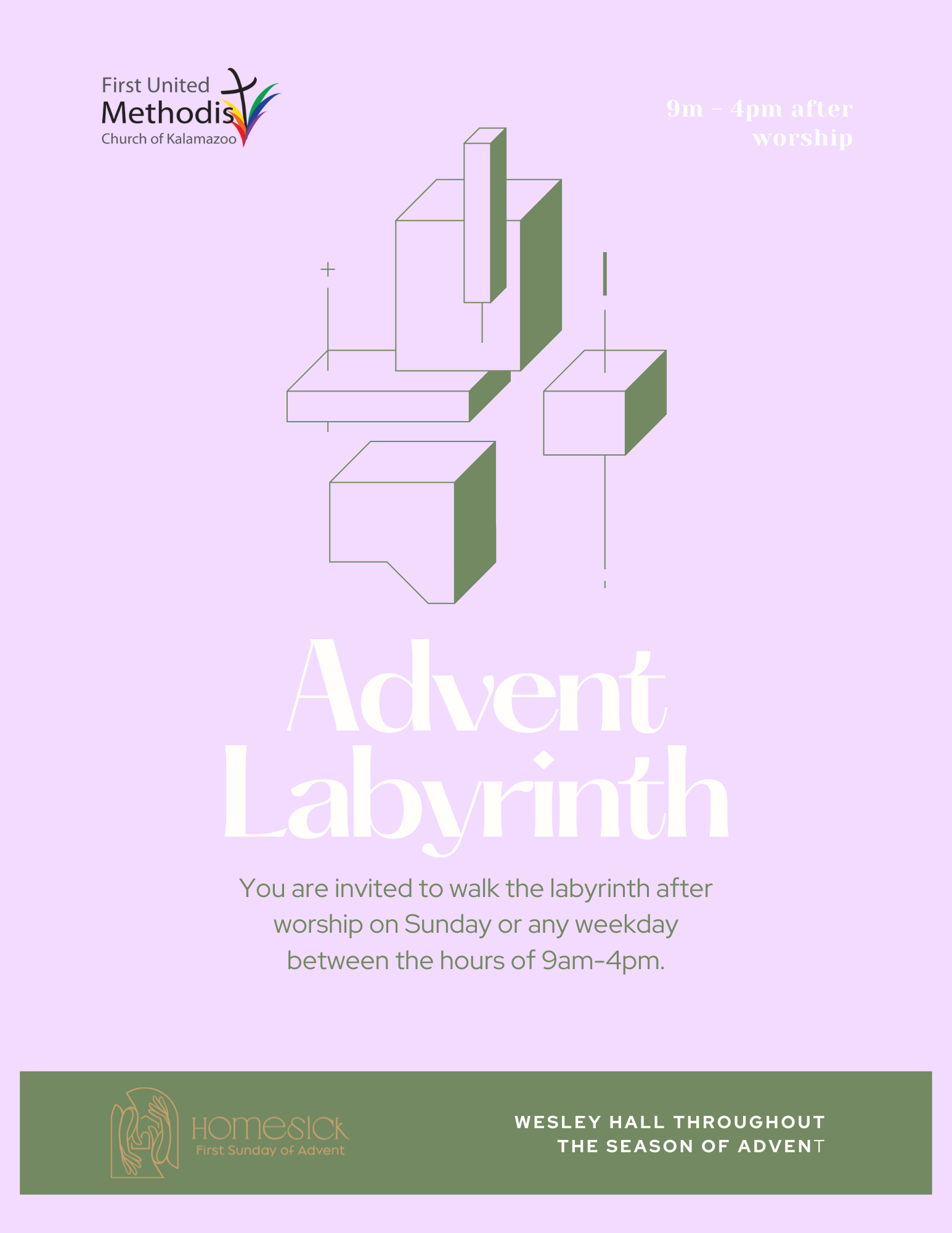 There is a long history of the use of labyrinths in Christian worship. The purpose of the labyrinth is to slow us down and, in this season, we contemplate the themes of Advent. The Advent and Christmas scriptures are rich with home metaphors and imagery. In these scriptures, home is both physical and metaphorical, something we seek and something we are called to build. In many ways, these scriptures are like designs detailing the dreams of a God who makes a home with us. Ultimately, God is our home and resting place. God draws near and makes a home on earth; sacred ground is all around us. Labyrinth prayer walking can ready our spirits to be part of God's Kingdom and for the Christ to settle into the manger of our hearts. The labyrinth will be set up in Wesley Hall throughout the season of Advent. You are invited to walk the labyrinth after worship on Sunday or any weekday between the hours of 9am-4pm. It is safe for several people to walk the labyrinth at one time but please be allow space for each walker. This labyrinth requires the removal of your shoes to preserve the cloth of the labyrinth. The labyrinth can take 10-20 minutes to walk, depending on your pace and the time you spend in the middle. There will also be prayer stations set up outside the four corners of the labyrinth. Please make use of them to enhance your time of prayer and contemplation. If you have never walked a labyrinth, I encourage you to try this ancient prayer practice to quiet your mind, center yourself, and allow your spirit to be in prayer, curiosity, and expectation. Peace be with you.
Pastor Julie
How to walk a labyrinth:
Take off your shoes; this is holy ground. Enter the labyrinth slowly, calming and clearing your mind. This may be done by repeating a prayer or chant.
Open your senses and focus on the process of taking slow and deliberate steps. Bring to mind a prayer or spiritual question to contemplate during the walk to the center.
Reaching the center, pause to reflect, pray, and listen for an answer or for more profound revelation. Now begin the return journey. Pray or reflect further. Upon
exiting, absorb the experience with continued reflection, prayer, or journaling. There are four prayer stations around the room for you to use before or after walking the labyrinth. Peace be with you.