For Christians, music is a fundamental part of praising God.
Music is a vital component to our worship life at First Church. Through music, we strive to joyfully grow in discipleship, to express our faith, to experience the meaningful traditions of the church, and to give glory and honor to God.
Please contact music director Jacqueline Stilger at jstilger@umc-kzo.org if you would like more information about any of the musical ensembles or if you're interested in participating in music at First Church!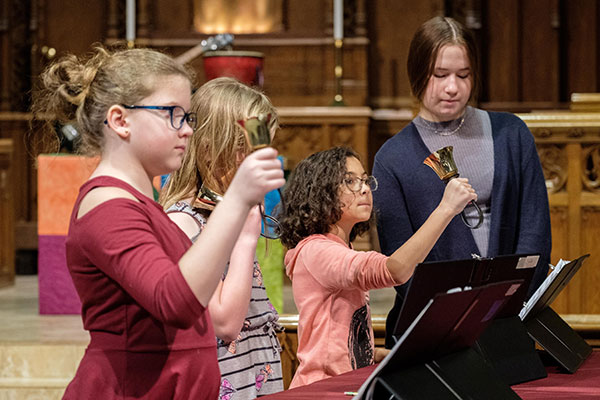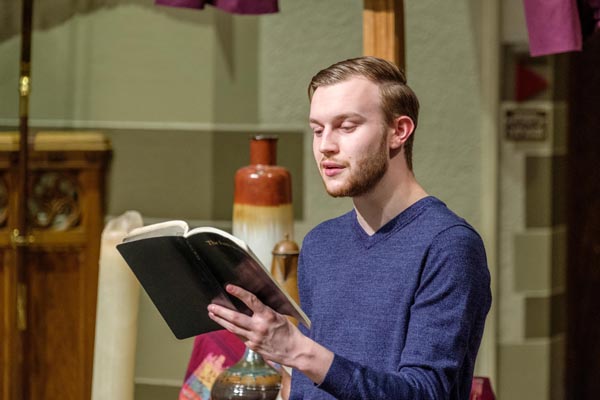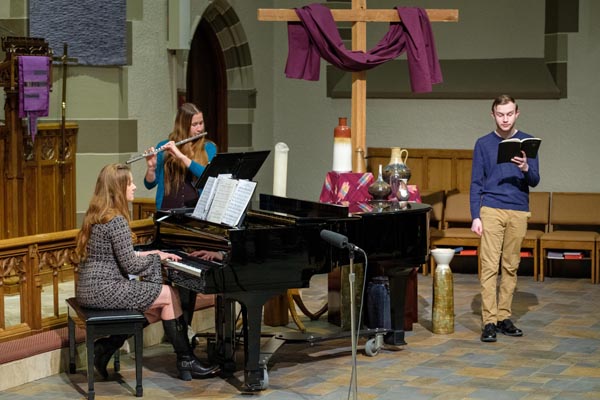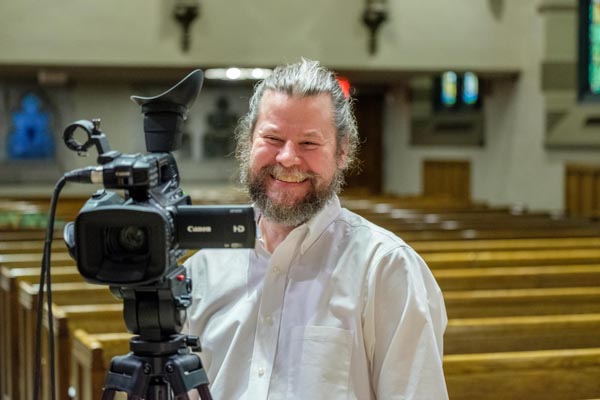 Chancel Singers
Director of Music Jacqueline Stilger leads this SATB vocal ensemble which sings in worship most Sundays, September through May. Working together for both musical and spiritual connection, the group seeks to share God's love through music. We rehearse on Thursday evenings from 7:15 to 9pm during the regular program year. 
First Beats Children's Ensemble
This ensemble is open to children from 3rd grade through 8th grade. It is a non-auditioned group and music reading ability is not required. First Beats offers a wide variety of musical experiences, enhancing spiritual lives through the arts. The children regularly sing and play handbells, drums, and Orff instruments in worship as an expression of prayer and praise. 
First Bells
Our youngest musicians participate in this ensemble and joyfully ring colored bells under the leadership of Carol Grant. It is open to children ages 2 through second grade. They offer their gifts once a month at the 10am service.
First Strings
Our string orchestra ensemble, led by Anne Sherfield of the Battle Creek Symphony, plays for worship four or five times a year.  It is open to all teens and adults with orchestral experience. New string players are always welcome. If you are interested in joining First Strings, please contact Anne at arscello@aol.com.
Handbell Choir
Our 5-octave handbell choir is open to adults and teens who have music reading experience. The ensemble rehearses on Thursday evenings from 6-7pm, September through May and proclaims the joy and artistry of handbell ringing in worship each month at the 10am service. Positions become available periodically and the ensemble is often looking for qualified substitutes.
Jackie Stilger and Bernie Foulk are so much more than just the people in charge of the church's music program.  They are also ministers.  We are encouraged to share our thoughts and concerns.  That means a lot to me.
I would like to thank Jackie Stilger for all her efforts to help me challenge myself to sing. I've grown a great deal participating in the choir.